If you have finished watching Euphoria and you are searching for other shows like Euphoria to watch with your free time. We've compiled this list of movies and TV shows similar to Euphoria that are sure to conjure up the same feelings of introspection that you had while watching your favorite episodes of Euphoria.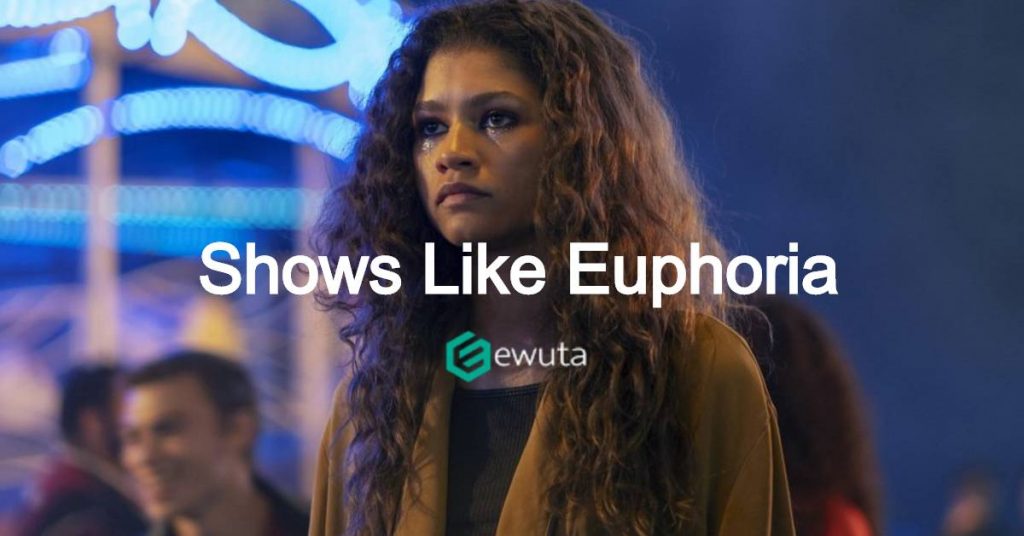 HBO's new drama Euphoria has been making waves for its provocative content, intriguing story, and depiction of teenagers. Executive produced by Drake (not only a famous musician, but, you might remember, a veteran of the genre!), starring Zendaya, and with a home on a prestige network, Euphoria has a rare mix for shows of its genre: high production value and really good acting.
Now, it's high time to share some of the very best shows like Euphoria that you can binge while you wait to see what happens next.
1) Sharp Objects
Although a whodunit drama on the surface, Sharp Objects, it explores a lot more intense human emotions and struggles at its heart.
The series effortlessly overlaps past traumas with present-day crimes. Crime reporter Camille Preaker who has been suffering from alcoholism for quite some time now has been recently discharged from a psychiatric hospital after years of self-harm. Camille pulls through the day by taking sips from a water bottle she secretly fills with vodka and pressing her fingers into the screen of a cracked iPhone. She wears long sleeves to scars from the words she has literally carved into her skin.
She still has flashbacks of her troubled childhood in the small town of Wind Gap, Missouri where she now has to return on orders of her editor. A sister dying when young, a difficult melodramatic mother and a rebellious half-sister is enough to get on any one's nerves. A mysterious murder case added to that further weighs down Camille.
With ghosts from the past mingling with the problems of today and a deep sadness engraved in the eyes of the young reporter, Sharp Objects is hauntingly captivating.
---
2) I Am Not Okay With This
Like Euphoria, I Am Not Okay With This follows the main female character, Sydney and her trials and tribulations through high school, sexuality and family. There are a few similarities with the two television shows, but this one bleeds into the fantasy genre, as well.
Sydney has superpowers that she wasn't aware of and tries to navigate through her like with them.
---
3) Sex Education
Looking for a heartwarming and oddly straightforward comedy following the ups and downs of Euphoria? Sex Education is the perfect light-hearted teen dramedy to binge this weekend.
A socially awkward high school virgin (Asa Butterfield) living with his sex therapist mother (Gillian Anderson) teams up with "whip-smart bad-girl" Maeve (Emma Mackey) to set up a clinic to deal with their fellow students' weird and wonderful problems.
---
4) Skins
In terms of jarring content, the original British Skins series (MTV attempted an American adaption in 2011 that did not take off)might just be the closest thing to what Euphoria is offering. Skins deals with drugs, sex, and relationship drama, and it also happens to be available on Netflix.
The cast cycles through in generations, but the early seasons feature a number of people who would eventually become stars: Nicholas Hoult, who's starred in X-Men movies, Mad Max: Fury Road, and The Favourite, among others, along with Get Out star Daniel Kaluuya, Slumdog Millionaire star Dev Patel, and Game of Thrones stars Joe Dempsie (Gendry) and Hannah Murray (Gilly).
---
5) Shameless
Even though Euphoria is about a teen suffering from addiction issues, it addresses people of all ages. On the same note, we add to this list a series about Frank Gallagher, a single father raising six children. A slave to alcohol and drugs he spends his days either drunk or in search of misadventures while his children learn to take care of themselves.
Shameless is a dark comedy that takes place in the not so nice parts of Chicago and drives home the truth that drugs and alcohol not only affect the health of those addicted to them but also wrecks the lives of all associated with these lives.
Every time Frank rants about government, upscaling, or history, you realize that he is quite intelligent but wastes his mind on cocaine or vodka even as his children struggle to fend for themselves and later in the series develop addictive behaviors and drug problems themselves. Their miseries don't stop here either as down the lane they also battle with mental disorders.
The Gallaghers have it rough but they stick together and more than anything this is what makes Shameless a must-watch.
---
6) 13 Reasons Why
Netflix's super-popular original teen drama 13 Reasons Why, based on Jay Asher's young adult novel of the same name, has been criticized for its glorified portrayal of suicide.
That being said, the show also features a lot of good acting, particularly from leads Katherine Langford and Dylan Minette. The show delves into dark spaces, much like Euphoria, and while it could certainly handle those topics better. It still deserves of a mention for notable shows of the genre.
---
7) My So-Called Life
Just like Euphoria, My So-Called Life shows the lives of a group of teenagers in Liberty High School near Pittsburg, Pennsylvania. Also, they deal with drugs, alcohol, sex, sexual identity, and relationship issues. The show allowed its viewers to understand what teenagers are going through. And it is a natural part of being a teenager.
In addition, the creators of My So-Called Life are Winnie Holzman and Edward Zwick and Marshall Herskovitz as the producers. The show premiered in August 1994 and ended in May 1995 with only 1 season.
8) She's Gotta Have It
Spike Lee's modern take on his film She's Gotta Have It released its latest season not too long ago. In Season 2, the main character Nola Darling played by Dewanda Wise faces a myriad of issues. Opal (Ilfenesh Hadera) is still in the picture and so are the other usual suspects from the previous installment of the show: Greer (Cleo Anthony), Marz (Anthony Ramos) and Jamie Overstreet (Lyric Bent). The cinematography is one of the reasons we can't stop watching. The expertly filmed shots are fused with notions digging into topics such as politics and gentrification that's currently wreaking havoc on Brooklyn.
---
9) Skam
Skam is a Norwegian teen drama series. It follows the lives of teenagers at Hartvig Nissen School in West End Oslo. Skam is a show like Euphoria because each episode shows the main character's life. In which each episode focuses on a particular topic. These are relationship difficulties, identity crisis, sexuality mental health issues, religion, and forbidden love.
Likewise, this series received high ratings from its viewers and critics. This is because it successfully delivers important issues among teenagers. Also, it caught the attention of viewers from other countries such as Denmark and Sweden.
---
10) The Society
If you love Euphoria's lens on the world of teenagers, you'll love The Society. Teenagers return to their hometown to find it empty and themselves cut off from the rest of the world in this Lord of the Flies-like teen drama.
The Society (Netflix, 2019) is an American mystery drama television series created by Christopher Keyser. After discovering everybody else in their town has vanished, a group of teenagers must come up with their own rules to survive
---
Actually, there are more shows like Euphoria, but the shows listed above have received the highest similarities from the fans. Likewise, these shows will allow you to further understand the problems of the young generation.