Securing internet activities is critical in today's environment. With the increased usage of online payment models and cloud technologies, users were forced to disclose a large amount of secret and personal information to suppliers. You should utilize a Virtual Private Network (VPN) to keep your internet activities from being traced.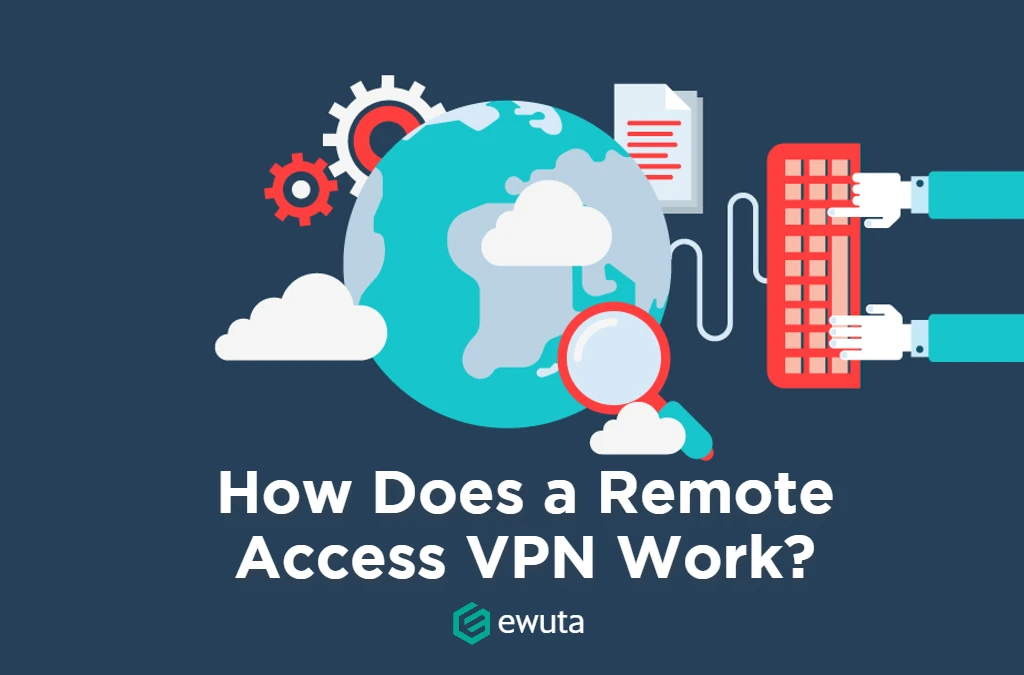 VPNs provide privacy and security by encrypting your traffic. In addition, when organizations adopted remote and hybrid work models, they uncovered additional network vulnerabilities. Malicious actors may interfere with employees' remote access, jeopardizing business security.For that purpose, creating secure remote connections is critical in today's corporate environment.
VPN technology, on the other hand, can provide solutions that safeguard distant connections by linking users to the network in the same way they were on-premises. This approach reduces some of the key dangers linked with distant connections as well as enables greater access control. In this article, we will talk about Remote Access VPNs and how they work. But first, let's explain VPNs in general.
What is a Virtual Private Network?
A virtual private network (VPN) is a service that encrypts data received and delivered between devices and public networks by constructing private tunnels. It increases users' security, anonymity, and privacy by concealing their IP addresses. A VPN masks your internet activities by first passing it through a VPN server. Your activity reaches the internet after passing via VPN servers. When monitored, however, it seems to have originated from the VPN server rather than your device.
VPNs exist in a variety of forms, but they all attempt to deliver privacy and anonymity. VPNs enable more private and safe connections since they conceal users' internet activity. They are especially useful for businesses with remote personnel. Encryption protects criminal actors, Internet Service Providers, and other third parties from tracking user behavior.
What is a Remote Access VPN?
This VPN type is a technology that enables distant endpoints to reach and utilize corporate services, apps, and other network features in the same way they would if they were on-premises. This provides complete security since it allows for more control over access privileges. Remote Access VPN, when combined with a Gateway and Network Access Server, allows only validated users to access the business network, cloud, or services. This prevents hostile actors from gaining access to private data via remote access.
VPN Gateway and Network Access Server – NAS are both required components of Remote Access VPN. To put it simply, NAS is a connection point that allows distant users to access company servers, whereas VPN Gateway is a connecting service that establishes private tunnels between data centers, LANs, and endpoints. Remote Access VPN is also compatible with the IPSec and SSL protocols. In a word, it enables each distant endpoint to access the corporate network via private tunnels.
It is an excellent alternative for enterprises with remote staff. It mitigates some of the most destructive dangers linked with distant connections by letting endpoints utilize the corporate cloud, network, apps, and services like they are on-premises. Now that we've covered what Remote Access VPN is and how it works, let's look at its advantages.
Benefits of Remote Access VPN
Although this particular type of VPN may be primarily useful for companies with remote staff, it may also be useful for personal usage. Remote Access VPN provides companies with total security and privacy by allowing endpoints to conceal their online activities and mask their Internet Protocol address. Besides security and privacy, it has other significant benefits. Moreover, it is a cost-efficient solution that can be implemented easily.
1. Data Encryption
Tunneling mechanisms and data encryption ensure that all data transported, regardless of endpoint or area, is completely secure. Only authorized devices and persons have access to corporate data. Even if someone obtained your data, it would be worthless because it is encrypted.
2. Remote Access
This technology, as the name suggests, enables safe distant connections for users and businesses. Because hybrid work arrangements are here to stay, this functionality may be quite useful for businesses that prefer remote work models. Among the most important advantages of utilizing this type of VPN is the capability to safely connect business applications and system capabilities from anywhere in the world.
3. Safe and Fast File Sharing
This VPN type permits endpoints and systems to securely communicate classified files, confidential papers, and other company information. The activity sent between servers is routed with private tunnels thanks to the VPN Gateway. Even if the transmission is disrupted, the information it carries cannot be deciphered.
4. Increased Control Over Access
Companies may manage user access using a Remote Access VPN. It enables enterprises to set security policies for how data is accessed. Remote Access VPN controls access by requiring user identity and authorization. This feature also assists them in adhering to requirements. This is critical since failure to comply with rules can result in severe fines. Meeting compliance regulations, on the other hand, assists businesses in developing brand trust and improving their reputation.
Final Words
Secure remote access has become a vital component of today's corporate environment. Companies used hybrid or remote work strategies to stay operational during the coronavirus epidemic. This, however, created new cyber threats and network weaknesses. Because a data leak or breach may severely damage brand reputation and trust, protecting distant connections and deploying safety measures are critical in today's corporate environment. Luckily, this VPN type can give full privacy and security to businesses.