Gaming is the running of specialized applications known as electronic games or video games on game consoles like X-box and Playstation or on personal computers (in which case the activity is known as online gaming).
As a gamer, you need the best Gaming browser without extreme online lags
to improve your Gaming experience. Here is our list of the 10 best gaming browsers that will enhance your Fondness to Gaming.
1. Opera GX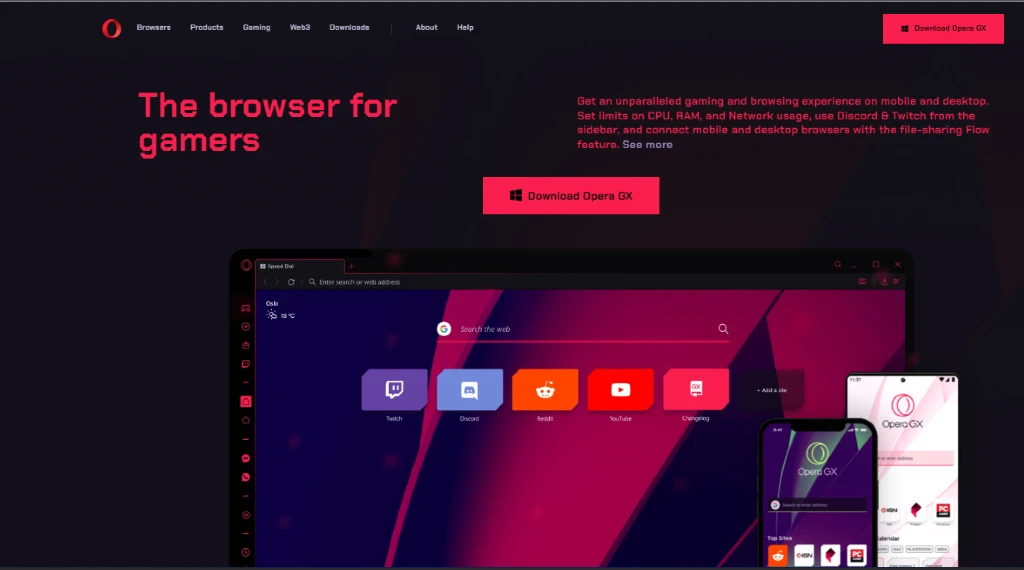 Opera GX is a special version of the Opera browser built specifically for gamers. The browser includes unique features like CPU, RAM and Network limiters to help you get the most out of both gaming and browsing.
You can also bring your gaming style to mobile. Connect mobile and desktop browsers with the file-sharing Flow feature, smoothly browse on the go with the one-handed Fast Action Button, and protect your privacy with the built-in ad blocker in the mobile browser for gamers.
Opera GX brings speed, customization and privacy to desktop and mobile browsers.With its exclusive built-in features which is mainly the reason why gamers love Opera GX.
You can customize your color scheme with Opera GX to match your gaming setup. Select from the specially designed themes both light and dark and GX desktop wallpaper as a gaming background. In Opera GX, you can get free games, the best deals, plus a game-release calendar and gaming news. GX Corner in the mobile browser also delivers free mobile games and the best game suggestions.
You can alsoTalk with your teams, friends and communities with Discord in your sidebar, and give feedback on GX. Including the world of music and podcasts at your fingertips.With Opera GX you can connect to all your music services, and switch between them easily.
2. Vivaldi Browser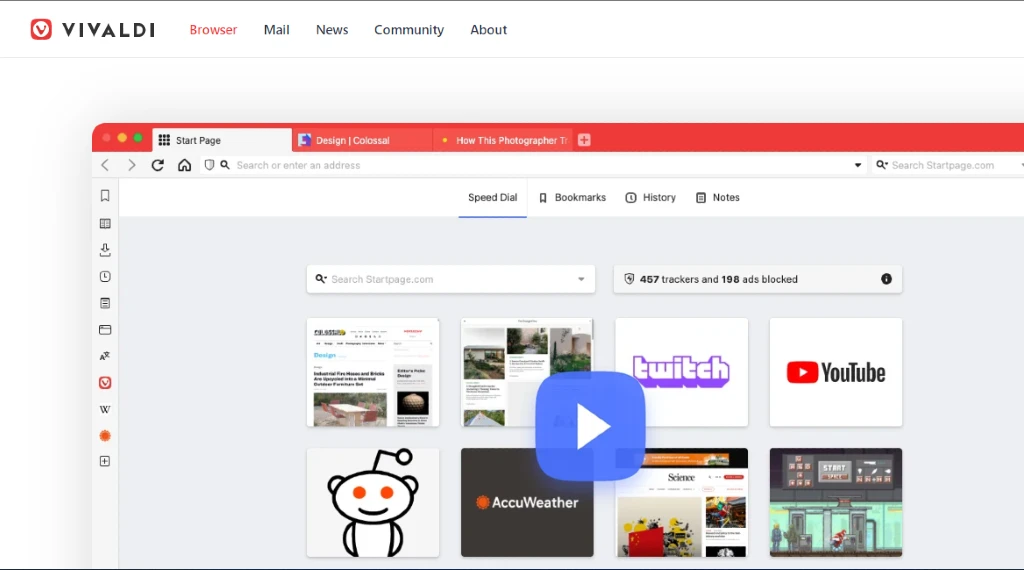 Vivaldi Browser is a multi-platform browser that provides robust personalization controls to help users create the browser they want. The browser allows users to open any website in a split-screen panel, categorize tabs in two-layer tabs stacks, and customize the theme and appearance of the browser. Vivaldi also comes with built-in features like a search engine, ad and tracker blocking, private mode, bookmark management, notes, screen capture, and more.
It is lightweight, easy to navigate, and has a clean interface. Vivaldi comes with a built-in password manager which gives a fast and secure login experience as well. You can also detach online videos to watch on top of other windows while you continue browsing. It also comes along with an excellent tracker and ad blocker which takes my browsing experience a notch higher.
3. Brave browser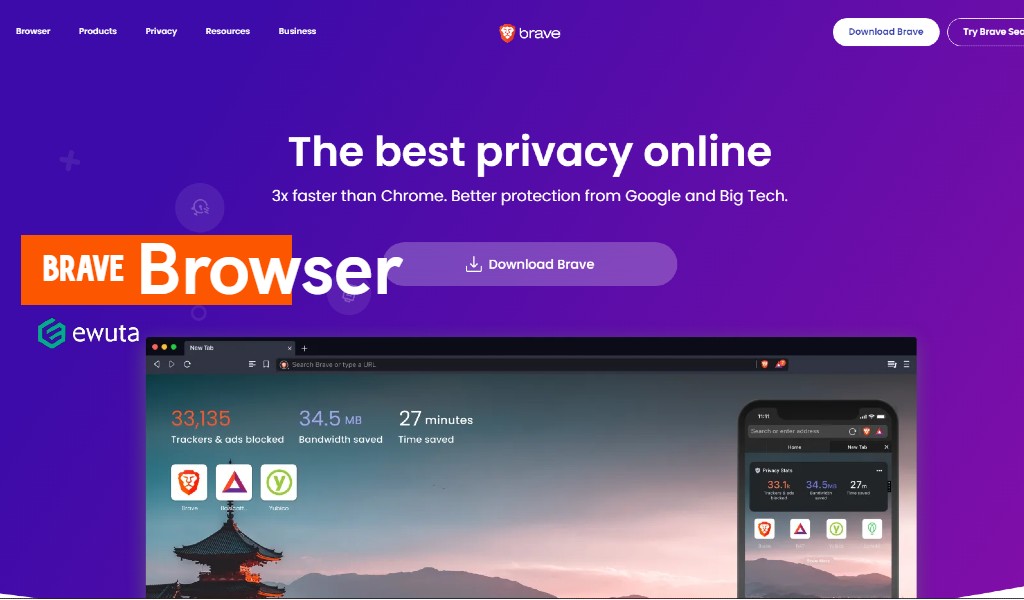 Brave is a free web browser that focuses on privacy-first features like ad- and tracker-blocking, and hands out rewards to those who do choose to opt in to ads. The browser also claims to run three times faster than Google Chrome and is available with a (subscription-based) VPN.
Brave has a reputation as one of the more secure browsers on the market. You may have encountered "Brave Rewards" when doing your research on the web browser.
Brave Rewards is essentially a reward system that pays you for opting in to see first-party, privacy-protecting ads in new browser tabs, your Brave News feed and push notification.
This payment comes in the form of a BAT (or Basic Attention Token), a crypto asset stored in the Brave Wallet that can be withdrawn as a gift card or used to tip your favorite websites and content creators.
The browser also claims to block privacy-invasive ads and trackers, block third-party data storage, protect users from browser fingerprinting (cookie-less trackers) and upgrade every website possible to a secure https connection.
4. Coowon browser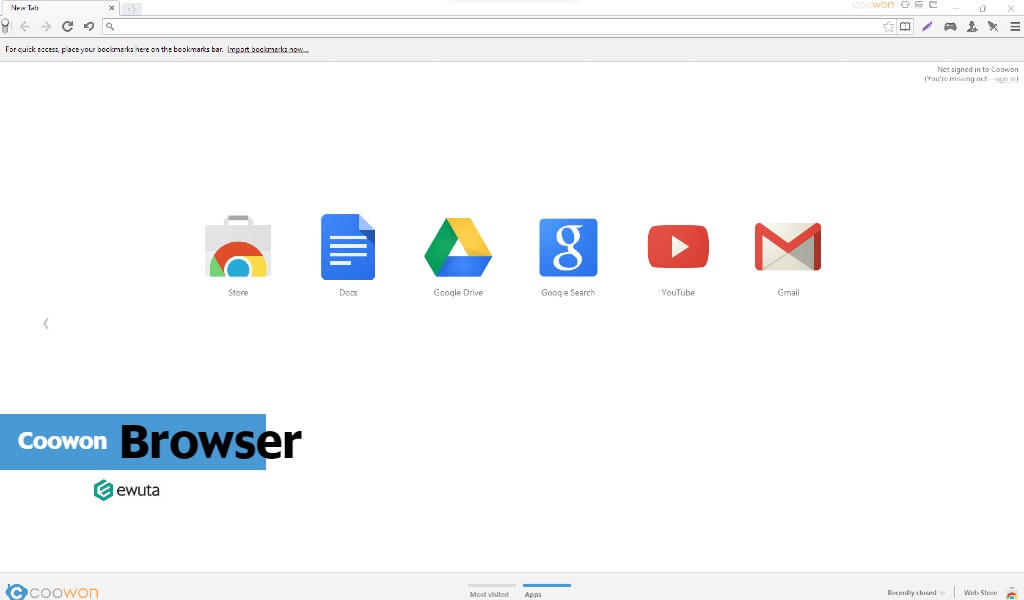 This is actually the best gaming browser for gamers that like to play games in their browser. Coowon supports record & play mouse clicks, which helps for automating in-game tasks (aka botting), and it also allows for controller support. Coowon browser performs game tasks automatically for you.it finds botting applications suitable for you in the Coowon app center.
The Coowon browser can also Speed up or slow down the game time running in Flash or web-page. Save your precious time or act more precisely.
Coowon browser also conveys a floating window, a maximized content area in a small topmost tool window. It can show something interesting while the background work is not busy.
It also has a translucent Window to Adjust the transparency of the browser yourself so that you can see both the background content and the browser content. Useful and interesting!.
5. Google Chrome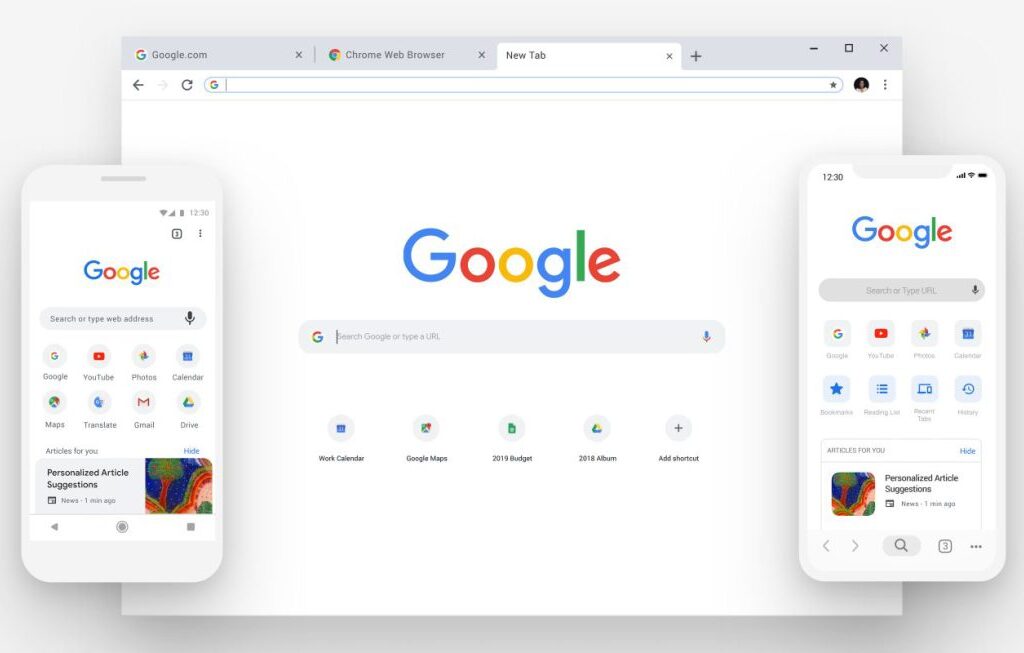 Google Chrome is fast, it supports Google services natively, and it's available across all platforms. It's our top pick in speed, as it went head to head with Safari on macOS and Microsoft Edge on Windows. Chrome has a large library of extensions. It's also a firm alternative if you don't want to use other browsers.
Chrome is anticipated to be the fastest web browser. With one click, it loads web pages, multiple tabs, and applications with lightning speed. Chrome is fitted with V8, a faster and more powerful JavaScript engine. Chrome also loads web pages faster by using the WebKit open source rendering engine.
Google Chrome is one of the most used browsers in the world, and while it can provide really quick and simple usage, it is also beloved by gamers because it can load games pretty quickly, and it even includes a built-in gaming console.
6. Mozilla Firefox
Mozilla Firefox, or simply Firefox, is a free and open-source web browser developed by the Mozilla Foundation and its subsidiary, the Mozilla Corporation. It uses the Gecko rendering engine to display web pages, which implements current and anticipated web standards.
Chrome and Firefox are close to being even in most of their capabilities Firefox is private and secure. Firefox claims to use less memory than Chrome, so your other programs can keep running at top speed. Firefox claims to use just enough memory to create a smooth experience so your computer stays responsive to other tasks.
Mozilla Firefox also has an autoplay blocking feature, cookie blocker and social tracker blocker, so as to create a stress free and enjoy games without having to bother about them having extreme access to your personal information.
7. Microsoft Edge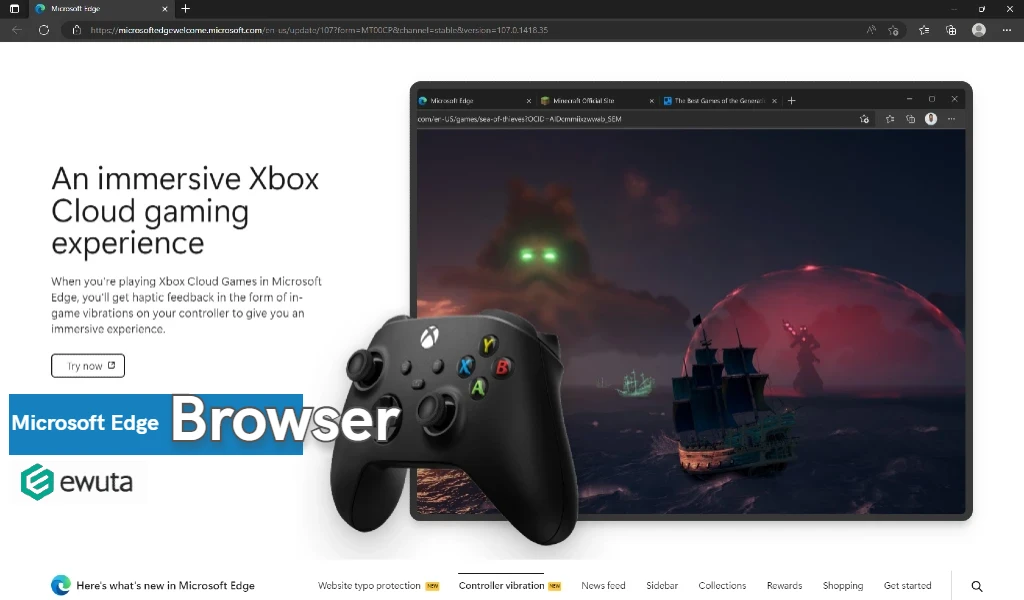 Microsoft Edge is a cross-platform web browser created and developed by Microsoft. It was first bundled with Windows 10 and Xbox One in 2015, and later released for other platforms: Android and iOS in 2017, macOS and older Windows versions in 2019, and Linux in 2020
Microsoft Edge improves your browsing experience with world class performance and speed, optimized to work best with Windows. It also has a personalized gaming homepage built with exclusive Xbox features and curated content tailored to your gaming interests and experiences.
Microsoft Edge was designed with world class performance and speed from Chromium and is optimized to work best with Windows. Microsoft Edge also has security features such as SmartScreen, Password Monitor, InPrivate search and Kids Mode, to help keep you and your loved ones protected and secure online.
The Edge browser claims to offer the highest rated protection against phishing and malware attacks on Windows 11/10. Moreover the exciting news is that Microsoft Edge is now available to download on your iOS device, Android and macOS if you are not using Windows.
8. Safari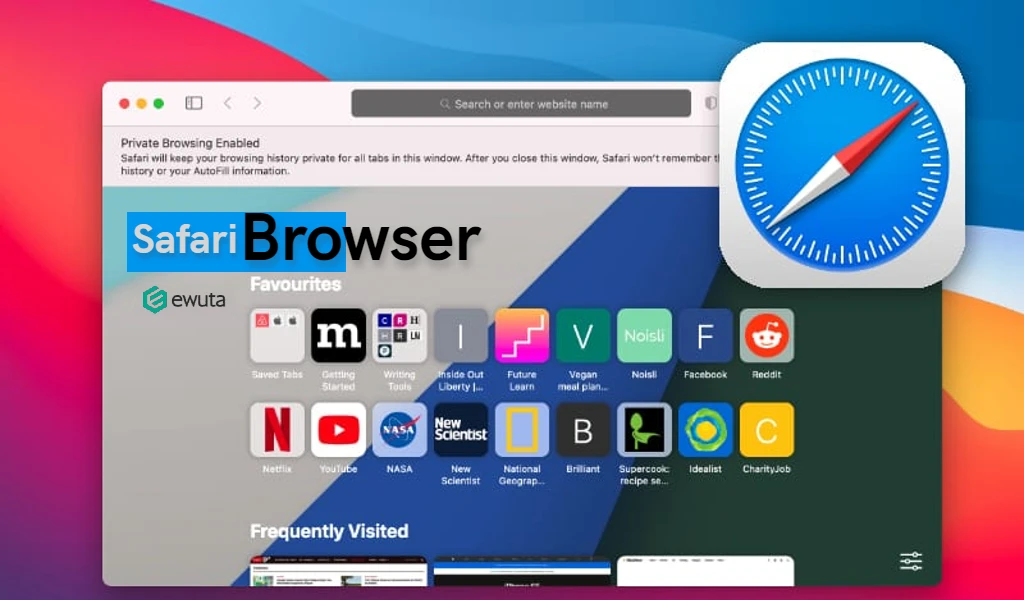 Safari is the native browser for Mac and iOS devices. It's got a clean design and is straightforward to use. Safari ranks pretty high for privacy and security. The big win for Safari is its integration capabilities.Gaming on browsers has become more in vogue as a cheaper alternative to consoles and downloads, and the Safari browser is one of the great options for gamers.
Safari provides quicker game loading speed and makes the gaming experience much more enjoyable by cutting the waiting time.
With a 4K video streaming ability, you can anticipate a high resolution in games that support 4K projections. With decent modification, you can combine speed with the flexibility to enjoy games on your terms.
Safari is one of the best browsers with advanced features that aid in blocking trackers through the "DO NOT TRACK" unified settings to ensure that games won't collect personal data from your browser while gaming.
9. Avast browser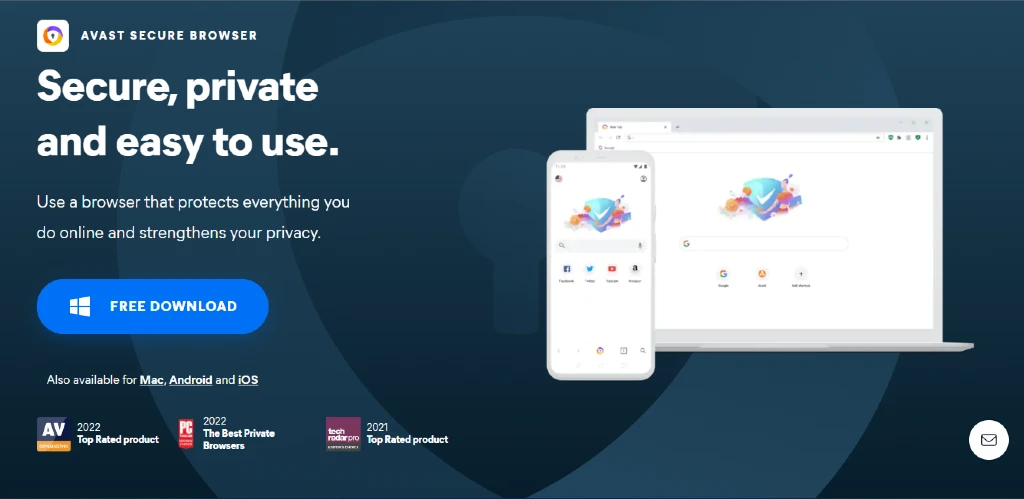 Avast Secure Browser is a free private browser designed to protect personal data and block ads for faster browsing.Avast Secure Browser automatically blocks online ads to drastically improve website load time. Hide all ads, or just the most intrusive, so you can browse uninterrupted.
Avast Secure Browser brings a level of privacy and protection to your browsing experience Find and block the hundreds of invisible ad-tracking cookies websites have set up to follow you online.
Using their innovative tab grouping system, Avast allows you to neatly sort your many, many open tabs.Avast uses the built in integration Avast Secure line VPN to hide your IP address and encrypt your connection effortlessly.
Avast browser claims to be the safest browser, By blocking phishing sites, harmful download links, and encrypting your connection, Avast Secure Browser provides an extra layer of defense for the web, while a powerful antivirus is the core of your protection
These features enable better page loading time, although this browser still keeps things airy which means it uses fewer computer resources to run than most browsers. For gamers, this means faster game loading, a smoother gaming experience, and a more secure way to play any game you find online.
10. Iridium browser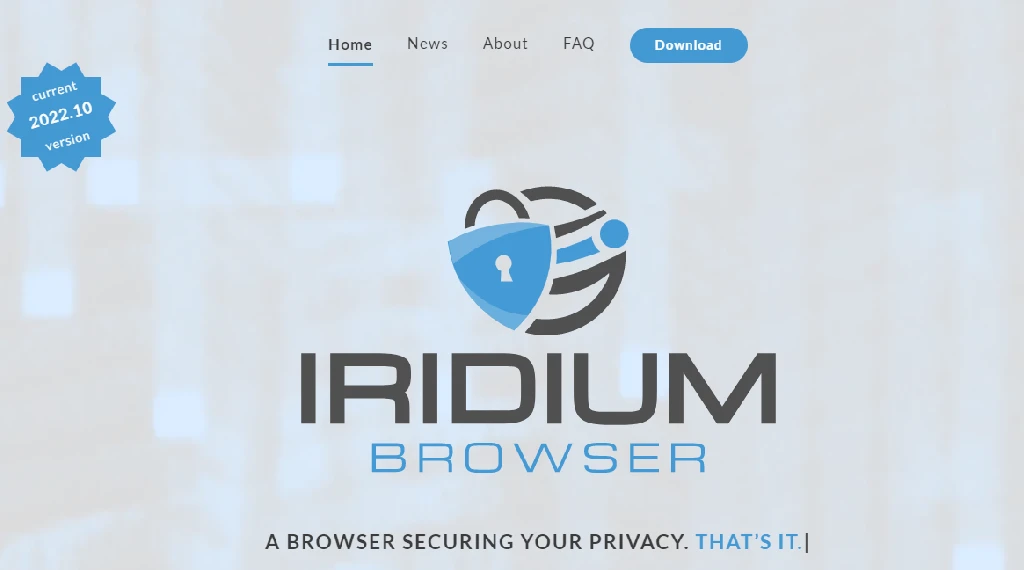 Chromium (which Iridium is based on) is a very secure browser, yes. But it does call home to Google and Iridium did even more to enhance security to the maximum extent possible. Iridium Browser has various enhancements where it forces strict security to provide the maximum level of security without compromising compatibility.
It supports Windows and macOS operating systems, Iridium is just fast in every way. The browser starts very fast. loads and also renders very complex web sites really fast and also supports openSUSE, Fedora, RHEL / CentOS. You can get access to the source code. Just anybody can use Iridium right away. It is simple and easy to handle, it does not require any special knowledge at all.
Finalization
There are many browsers out there. Chrome is fast, stable and user-friendly but does not meet many organizations' demands for privacy. Since the tight integration with its inventor (Google) makes many things easier, it does not comply with restrictive data environments.
Iridium is not another new browser from scratch. It takes the Chromium code base and enhances its security and sets certain policies by default. There are many forks of Chromium-based browsers.The Coowon browser performs game tasks automatically for you
Avast Browser is free and private browser designed to protect personal data and block ads for faster browsing. Safari provides quicker game loading speed and makes the gaming experience much more enjoyable by cutting the waiting time.
In a nutshell, Opera gx is the best browser for gaming. The Opera GX is not just a regular web browser. Opera has dedicated itself to creating a phenomenal Chromium-based gaming web browser. It offers more features than many popular web browsers today.
Since Opera GX has an intuitive interface, users of other browsers will find their way around immediately. Opera's gaming browser works flawlessly on all modern and almost all older Windows operating systems. There are still other 9 listed browsers to use if Opera gx did not meet your demand.